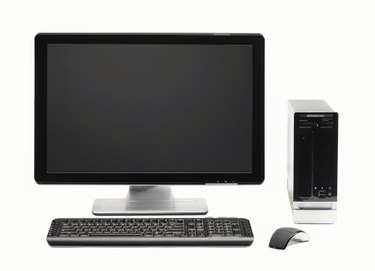 Microsoft Access is an application for creating, managing and formatting data. Microsoft, which makes Access, distributes the application as part of the Microsoft Office suite. Access' essential tools include screens for data entry, running queries, producing reports and other operations. Access' programming language is also vital because it allows users to extend the application's default functionality.
Data Entry Features
An intuitive way of entering data into an Access database is manual entry. An essential feature of Access that users choose for this operation is the tool for creating tables. Users click a toolbar button to create a new table, then define column labels for the fields in the table.
The navigation pane of Access is a feature that lets users quickly click to select tables they've created and saved. The navigation pane also allows users to select other objects, including reports and queries.
Import And Export
A feature for importing existing data is the set of tools under the "External Data" menu heading. One of these tools is labeled "Excel." By clicking it, Access users display a wizard that guides them through the process of moving data from an Excel spreadsheet to their Access database. A related feature is the toolset for exporting Access data to formats other applications can read, including Word, Excel and Web browsers. Access' import and export tools are vital to work teams that have data stored in different formats.
Reports
The Report Wizard is an Access feature that creates a report from a selected table or other data source with a single click. Users click a table in the navigation pane, then click the Report Wizard's icon in the toolbar to execute the wizard, which prompts users for parameters for defining the report. Users can then use another set of Access features for customizing the look and functionality of the report. Without reports, the ways in which Access users could view their data would be limited.
Queries
The query grid is a feature of Access that lets users fetch data from tables they've created. Access displays lists of tables from which users can choose a table to query with the grid. Users type names of the table's columns into the grid. They also type in the grid the criteria that data must meet for Access to include it in the query results. The SQL window is a feature of Access that offers an alternative to the query grid. Users familiar with SQL syntax can enter their statements in this window, then run the statements by clicking the "Run" button on the toolbar. The Query Wizard is another feature for fetching data. When a user clicks the button for this feature, Access creates SQL statements in response to user input in the Wizard's screens. Access users rely on this tool and the query grid for retrieving their stored data.