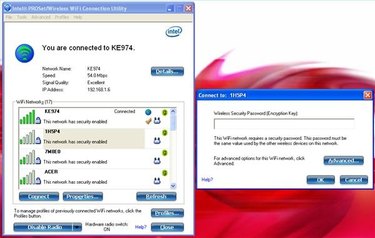 A wireless network key is used to secure a wireless network with a specified password. These passwords are required to gain access to the Internet connection and files on the network. Network keys are commonly encrypted with Wired Equivalent Privacy (WEP) or Wi-Fi Protected Access (WPA) types of security. The higher the bit size of a password the more letters, numbers or characters are involved in the password.
Types
WPA was created in response to a faulty security system: Wired Equivalent Privacy. WPA is commonly found in residential and business networks.
Benefits
Having a wireless network security key will greatly reduce attempts from individuals who try connect through your Internet connection or who try to steal your files.
Expert Insight
Creating a wireless network security key is simple and you may put it in place by means of the networks router setup wizard.
Identification
WPA and WPA-individual can be identified by the number of security keys needed. WPA-individual only requires one wireless security key for each user, but WPA requires a different key for each.
Warning
WPA and WPA 2 are stronger security networks than WEP. WEP is out dated and there is software that can easily be obtained to break though the network.