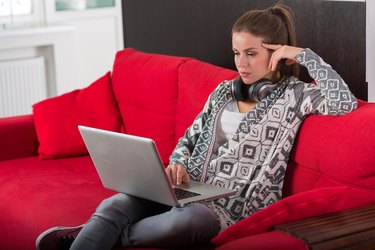 Hulu's autoplay starts a new video when the one you are watching ends. Typically, the new show is similar to the one you just finished watching, although it may not be something you want to see. Disabling autoplay gives you a measure of control over your entertainment experience and spares you the potential annoyance of seeing an unwanted episode.
Autoplay on Hulu.com
Move your mouse over the video while you're watching it to bring up the video's control panel. This includes many standard buttons, like Play/Pause and a timeline for skipping ahead in the video. Click the gear-shaped icon to open the Hulu.com player menu. Click "Off" under "Auto Play" to disable autoplay.
Autoplay in Other Versions
For iPad and Android devices, tap the menu icon, which resembles three vertically stacked bars. Then, scroll through the menu and tap the gear-shaped icon or the settings option and toggle off the autoplay switch. If you're using the Hulu app on a set-top box or game console, the controls vary from one device to the next. Typically, they require you to press down, followed by either down again or up to call up the menu, Then, you select the autoplay option on the control menu and toggle it off. At the time of publication, the Hulu iPhone app doesn't support autoplay.