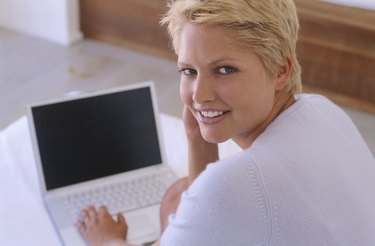 Whether you're running a blog or a commercial site, you've probably often heard the term "referral traffic" thrown around as something that can boost your visitors or sales. Referral traffic is not easy to obtain, but if you can get it, it can help you reach your readership or sales goals. You should know a few things about referral traffic if you want to increase the number of visitors to your website, blog or online store.
Definition
Referral traffic is used to describe visitors to your site that come from direct links on other websites rather than directly or from searches. For example, other sites that like what you have to say or sell may post a link recommending your site. You can also try to drive your own referral traffic by leaving links on other blogs or forums you have joined. Pay-per-click ads also count as referral traffic.
Importance
Referral traffic increases the "page rank" of your blog, which boosts it in Google search results. High rankings in Google are coveted, as being listed on the first page of a search can lead to many more clicks than if your site showed up on the fourth or fifth page of search results. Referral traffic is also important because it provides a steady source of traffic outside of search engine hits. Referral traffic drives targeted visitors to your website, which may increase revenues as they are more likely to purchase a subscription or buy your product. A person who finds your site at random may find it has nothing to do with what he was looking for.
Good Referral Traffic
Some referral traffic is good, but some is useless. If visitors aren't subscribing, buying a product or making return visits to your site, you're getting the wrong kind of traffic. It's a good idea to find out if you're getting the right kind of referral traffic, and a good way to do this is to use a free tool like Google Analytics or Yahoo! Web Analytics. These tools break down exactly how many return visitors you're getting, what pages they are checking out, how long they're staying and from where they came. This can give you clues as to which pages on your site are generating visits.
Increasing Referral Traffic
Increasing referral traffic is not easy, but it is possible with enough effort. Your site must be original and provide information about a new product or service before most everyone else. If you have a blog, you might also write honest reviews of other products and ask for a link, or write a series of posts on a particular subject. You might be able to use social media to your advantage; for example, Typepad's official blog notes that adding a Facebook "Like" application can boost referral traffic by 50 percent.