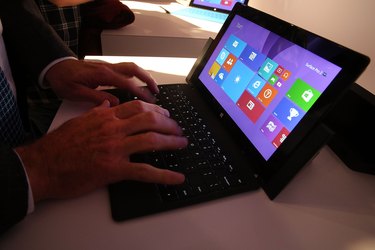 When Excel displays [Compatibility Mode] in the title bar, it indicates that you have opened an old XLS file, usually created by the 1997 through 2003 versions of Excel. Later versions of Excel normally use XLSX files, which never run in compatibility mode. Although "compatibility mode" might sound like a warning, it's actually a tool for your convenience -- while in compatibility mode, you can make changes to an old file and resave it without worrying about breaking compatibility with old versions of Excel.
Running in Compatibility Mode
In Excel, compatibility mode is completely automatic. Any time you open an XLS file in Excel 2007 or later, the program runs in compatibility mode. This differs from Word, where you can turn the feature off and on at will. While in compatibility mode, Excel disables all features that didn't exist in Excel 2003, preventing you from accidentally making a workbook incompatible due to your changes.
Compatibility Issues
If an Excel file contains features that didn't exist in an older version of the program, that program won't display the newer file correctly. For example, old versions of Excel don't have as many formatting and style options as new versions. Compatibility issues aren't limited to 2003 and older versus 2007 and newer -- for example, Microsoft added the AGGREGATE function in 2010, so even though both programs use XLSX files, that function won't work in Excel 2007. Compatibility mode, however, specifically deals with Excel 2003 and older files running in newer versions.
To check for compatibility issues using Excel 2010 or 2013, open the "File" menu, press "Check for Issues" on the Info tab and select "Check Compatibility." Excel details each issue and the versions of Excel it affects, and provides a "Find" link to show the cells in question.
Leave Compatibility Mode
You can't turn off compatibility mode while using an XLS file, so if you want to use features added since Excel 2007, you need to convert your workbook to XLSX. In Excel 2010, choose "Save As" on the File menu and set the Save as Type to "Excel Workbook," rather than "Excel 97-2003 Workbook." In Excel 2013, click "Export" on the File menu, select "Change File Type" and choose "Workbook."
The same process works in reverse, converting an XLSX file to XLS for opening with an old version. Pick "Excel 97-2003 Workbook" as the file type to create an XLS file. When converting to XLS, Excel automatically runs the compatibility checker to notify you of features that will break during conversion.
Create a PDF or XPS File
If a coworker only has Excel 2003, and you need to share a spreadsheet that uses newer features, one solution is to send a PDF or XPS file. These file types save a static snapshot of your file as you see it but don't allow for modification. The Portable Document Format requires Adobe Reader, the Reader app on Windows 8 or an alternative program to open, while XML Paper Specification (XPS) files run on Windows 7 and 8 -- and most computers with Vista -- without additional software. Other than this factor and PDF's greater popularity, the two work very similarly.
Create a PDF or XPS from the Export tab in Excel 2013's File menu, or by selecting "PDF" or "XPS Document" in Excel 2010's Save As window.