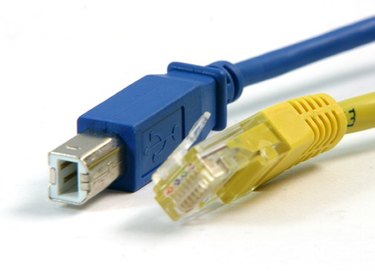 USB stands for Universal Serial Bus. USB is used to connect peripheral devices to a computer. Ethernet, on the other hand, is a high-speed networking protocol. It is used primarily to connect local area networks (LANs). Ethernet can also be used to connect a DSL or cable modem to a computer.
Types
The USB 1.0 specification supported speeds up to 12 megabits per second (Mbps.) USB 2.0 supports speeds up to 480 Mbps. Ethernet supports three different speeds. The slowest operates at 10 Mbps. Fast Ethernet operates at 100 Mbps. The fastest type is Gigabit Ethernet, which transmits signals at 1000 Mbps.
Features
USB is compatible with plug and play devices. This means that when you plug in a USB device, the device's drivers will begin to install automatically. When you attach a device to your computer by Ethernet, you may have to install the drivers manually. If a CD came with your device, place it in the drive to install the software and configure the device. Some modems that connect by Ethernet require no drivers. However, your Internet Service Provider (ISP) will probably provide you with software to configure your system to connect to the Internet.
Identification
A USB cable has metal connectors on both ends. The type "A" connector is flat and broad. This end connects to your computer. Many computers have USB ports both on the front and on back. These can be identified by a trident symbol, which shows a medium-sized circle connected to three lines. One line ends in a square, one in a smaller circle and one in a triangle. The "B" connector connects to your device. This plug is keyed so that you can't insert it in your device the wrong way. Ethernet looks like a large telephone cable. It has a plastic tab on the end that will catch inside the plug when you insert it in back of your computer.
Benefits
Ethernet is the best choice for connecting a broadband modem to your computer. This is because most broadband connections will function at speeds that are less than 30 Mbps. Fast Ethernet is more than adequate to handle these speeds. Ethernet is usually the best way to connect a local area network since it doesn't have to share resources with other devices.
Considerations
Even if your router and access points have USB connections, Ethernet may still be a better option. USB bandwidth is shared between all the devices connected to your computer by USB ports. This is fine if you're connecting a printer, a digital camera and a scanner, since you probably won't be using them all simultaneously. If you use USB for your networking needs, you may find that your router or modem are competing with other peripherals for resources. Also, Ethernet connections are dedicated to network traffic. Ethernet cables of up to 328 feet can function optimally, while USB cables are typically limited to 6 feet.