Call *611 from a Verizon Phone
Dial *611 from your Verizon mobile phone and press Send to be directly connected with a Verizon customer service representative. The normal customer service contact number for a wireless account is (800) 922-0204. There is no difference in these two numbers, they both call Verizon Customer Service. An automated phone system helps you check your balances, check your usage and perform other account-management items. You can also be connected to a Verizon customer support representative if you need assistance.
Use *611 On-Screen From Your Smart Phone
My Verizon Mobile is a application that helps you access your Verizon account and perform tasks like check monthly usage, make payments, update information and manage your account. A feature of My Verizon Mobile is *611 On-Screen. When you dial *611 from your phone, the on-screen app appears, presenting a visual way to choose the same options that calling *611 gives you. For example, when you call you may have the option to press 2 to hear your balance. The on-screen app provides the same option, without having to go through the menu system of the customer-service number. Use the app to:
View your usage

View your bill
Pay your bill
Change your plan
Change your features
Find support content
Call customer service
And other popular actions
The benefit of using this app is you do not need to wait in line on the phone or deal with a customer service representative, although you can use the app to dial the customer-service line so you can speak with a real person for assistance.
The 611 On-Screen app is currently available to Android devices. If you have an Android Verizon device and you do not see the My Verizon Mobile app or *611 On-Screen, visit the Play store and download the *My Verizon Mobile App.**
Turn 611 On-Screen off or on by opening the app and tapping the *Profile** tab. Scroll down and tap *611 On-Screen Settings to toggle this feature on or off.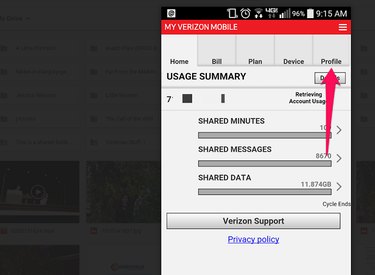 Warning
The first time you use this app, it will take a few minutes to set up some of the screens. When you tap Profile, wait up to five minutes for the profile details to populate. If your information does not appear, close the app and open it again, then wait five more minutes. If you still have problems, contact customer support.