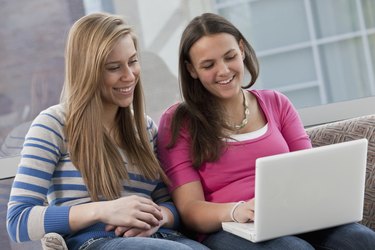 Apple uses its own signature operating system, which since 2001 has been derived from Unix and known as OS X. Before OS X came OS 9, otherwise known as "Classic." As of June 2014, the latest version of OS X is called "Mavericks." It is available on all of Apple's core systems, including the MacBook Pro, MacBook Air and iMac.
Mavericks
In October 2013, Apple released OS X 9, otherwise known as Mavericks. The updated operating system was available as a free download from the Mac App Store and contained over 200 new features compared to the previous iteration, Mountain Lion. New software included iBooks -- an e-book application -- and Maps. The Apple operating system also contains applications such as Mail, iTunes and Messages, as well as the Finder, which is the hub of the entire system.
Versions
Previous editions of the OS X operating system each had a separate code name of their own. The very first build was known as "Cheetah." Other monikers included Puma, Jaguar, Panther, Tiger, Snow Leopard and Lion. In June 2014, Apple released a beta for OS X 10, otherwise known as "Yosemite." Apple claimed the new operating system contained a redesigned interface, enhanced applications and better connectivity between Macs and iOS devices.
Upgrading
All new Mac computers come with the latest version of Apple's operating system. In order to ensure the system is running smoothly, Apple will occasionally release minor updates through the Mac App Store, which can be downloaded for free. Apple's current operating system is also available in the Mac App Store, for users with older machines. OS X 10.9 Mavericks is a free update for any Mac user running OS X 10.6.8 and above.
Other Operating Systems
While Microsoft and Apple have entirely separate operating systems, it is possible to run Windows on a Mac. Mac computers come with an application called "Boot Camp," which enables users to partition the hard drive into separate segments. Alternate operating systems such as Windows 7 can be installed onto individual partitions and booted separately from one another. It is also possible to run both Windows and Mac operating systems simultaneously by using virtualization software such as Parallels, VMWare Fusion or Virtualbox. A legitimate copy of Windows is required to install the operating system.