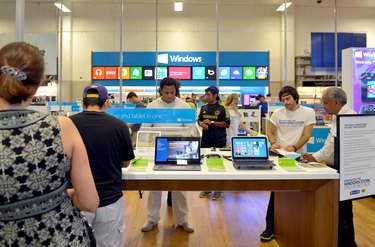 Windows saves two types of favorites on your computer: Internet favorites, used as bookmarks in Internet Explorer, and links to local folders, which appear in the Favorites section when exploring your hard drive. You can customize both sets of favorites to make it easier to reach commonly accessed locations, both online and on your computer.
The Favorites Folder
Microsoft integrates Internet Explorer into Windows in several ways, including by storing the Web browser's favorites list to the Favorites folder in your user account folder. You can find this folder by opening the folder with your user name, the same way you reach the My Documents folder. Alternatively, press "Windows-R" and run the command "%userprofile%\Favorites" to open it directly. Any Web links placed in this folder appear in IE's favorites list, but not the favorites or bookmarks lists in other browsers.
Favorites Within Internet Explorer
To see your favorites while using Internet Explorer, click the star icon and open the "Favorites" tab. The list matches the contents of your Favorites folder. To save the current website to the list, click "Add to Favorites" or press "Control-D." Links saved within the Favorites Bar subfolder appear on a toolbar in IE. Right-click the blank area near the address bar and pick "Favorites Bar" to turn this bar on or off.
The Links Folder
When you browse through local folders in Windows, the sidebar displays a Favorites section at the top of the folder tree. By default, this list includes common locations such as the desktop. Windows stores this list in the Links folder in your user account folder. Press "Windows-R" and type "%userprofile%\Links" into the Run box to open it directly. The locations listed in the Links folder are shortcuts, not actual directories, so you can delete or change them without affecting your actual files.
Adding Favorite Folders and Files
To add the currently open folder to the Favorites list, right-click the "Favorites" header and pick "Add Current Location to Favorites." To delete a folder, right-click it in the Favorites list and pick "Remove." You can rearrange items in the list by dragging them. You can also add individual files to the Favorites list. Open the Links folder and, in another window, the folder containing the file. Using the right mouse button, drag the file into the Links folder, then pick "Create Shortcuts Here." As with folders, you can later remove files from your Favorites without losing the actual files.
Version Warning
Information in this article applies to Windows 7, Windows 8 and Windows 8.1, as well as Internet Explorer 11. It may vary slightly or significantly with other versions or products.