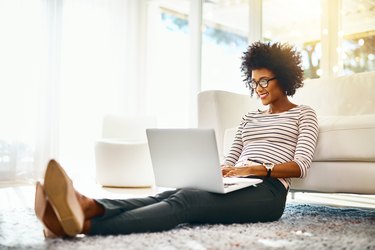 When comparing the MP4 and 3GP video formats, you might wonder which is the best format for video quality. While MP4 videos can support the highest quality, you also need to think about which format is best for the task you're trying to accomplish. Both video formats contain multiple tracks of media and have similar encoding methods, but their differences are most pronounced when it comes to use on portable devices.
Overview of Digital Videos
When digital videos are created, they are published by a process that is referred to as compression. During this process, digital scripts called codecs encode media tracks and make them readable. Thereafter, the assorted video, audio, subtitle and animation tracks are merged into a single file through a multimedia container. The MP4 and 3GP formats are closely related because their files are written by some version of MPEG-4 compression.
3GP and MP4 Video Characteristics
The 3GP format was developed by the 3rd Generation Partnership Project as an implementation of MPEG-4 compression. While this encoding profile is commonly used for digital video, telecommunications specialists engineered it especially for performance on 3G network mobile phones. Conversely, MP4 is a generic format for any digital video that was published with MPEG-4 compression. The formats are so highly similar that you may be able to play 3GP files in your media player simply if you change the video file's extension to MP4.
Differences in Performance
Since MPEG-4 compression is so efficient, any digital video that is encoded with this standard can stream high quality media on relatively low bandwidth. As a result, these files are relatively small, and they are less likely to consume storage space and processing speed. Because of this efficiency, the MP4 format is almost universally supported by portable media players and smart phones. Despite this wide compatibility, MP4 files are not optimized for playback on 3G network mobile phones as 3GP files are.
Differences in Compatibility
While 3GP files are specialized for 3G network mobile phones, they can also be opened in certain media players. You can play 3GP files in programs such as QuickTime, VLC and RealPlayer. However, since MP4 files are widely shared and more generalized, support for the format is practically standard in media software. In addition to QuickTime, VLC and RealPlayer, MP4 files can be streamed in iTunes and Windows Media Player; they can also be uploaded to the Apple iPod Touch, Apple iPhone and Sony PSP.
Choosing a Format
When it comes to streaming video on your computer desktop or portable media player, MP4 is the better format because it can support higher resolution video. However, the 3GP should be used exclusively on 3G network phones since it is specifically formulated for the device.