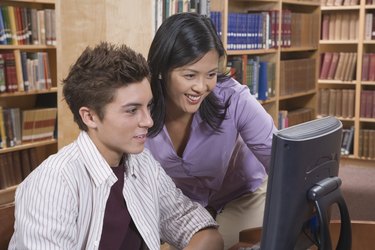 When you log in to your YouTube account to watch videos in your playlist, you might wonder why the next video on the list doesn't automatically play after the first video finishes. If you've seen other people watch videos on their YouTube playlists one after the other without having to click on each one, you may want to enable the same feature with your playlist.
About YouTube
YouTube is a video-hosting website that you use to search for or browse videos and play them. When a video has comments enabled, YouTube account holders can write their opinions or ask questions about the video. You don't need an account if you just want to watch videos or read comments. You can sign up for a free account, which enables you to upload your own videos, as well as make playlists of videos that you want to watch again.
YouTube Playlists
As you browse or search for videos, you may not have enough time to watch them all during your visit, so you save them in a playlist. You type a name for your playlist, which is useful for saving categories of videos that you want to look at later, such as "Cooking Demonstrations," "Baby Animals" or "Software Reviews."
Autoplay Option
When you browse or search for a video on YouTube, you click its thumbnail to start playing it. When the video finishes, you have options to watch a similar video, or a video posted by the same person, which you'll have to click to watch. By contrast, if you are watching videos in your playlist, you can watch them consecutively without having to click each one, if the Autoplay option is enabled.
Enabling Autoplay
Launch your Web browser, go to the YouTube website (youtube.com), and log in to your account. Click your account name at the top of the page. Click "Videos," and then click the name of a playlist. Click "Play All." The playlist toolbar appears at the bottom of the page. Hover your mouse above the icon of two curved arrows on the toolbar. A message appears, saying "Turn Autoplay On." Click the icon to enable autoplay. Click the icon once more to toggle the autoplay option off.