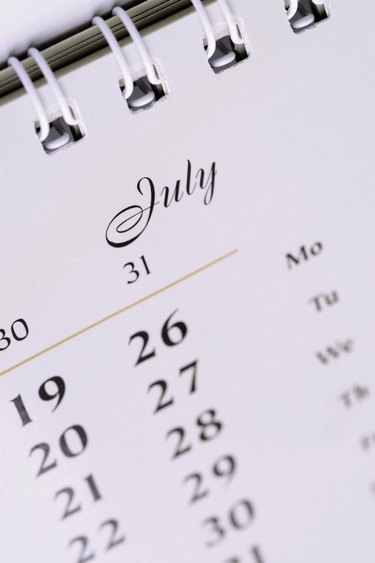 Seeing your photo in a beautiful calendar is quite the thrill. Getting paid for those images is even better, especially if you sell your photos professionally. Competition is fierce, since calendar company editors receive thousands of photos from eager photographers for each calendar they publish. That's why it's important to know what each calendar publisher wants before you spend time getting your submission ready.
Identify Buyers
Identify calendar companies that use the types of photos you take, such as wildlife, landscapes, people or pets. Look in the current edition of "Photographer's Market" at your local library to find calendar publishers. Jot down the name of the publishing company from calendars you find in bookstores and on store shelves that feature the types of photos you take. Look up their contact information online. Use an Internet search engine to look for "calendar companies," and visit their websites to see if your photos are a fit for what each one publishes.
Get Specifications
Contact the appropriate calendar companies to find out if they allow image submission for use in their calendars. Ask for the name and contact information for the editor who reviews and buys images so you can email or send printed images to the right person. Get the specifications on how they want to see your images, such as on a printed contact sheet, on a CD or through an online image gallery on your website. If the publisher prefers that you send images via email, find out what size and format they want so you don't overload their inbox with huge image files.
Prepare Your Submission
Include a cover letter that briefly explains your submission for potential calendar use and provide a website address to your online photo gallery, even if you provide printed contact sheets. This allows the editor to view your other photos, if interested. Include all of your contact information so the publisher knows how to reach you if they're interested in licensing your photos. Include a self-addressed stamped envelope in the event of rejection. That way, you get your photos back so you can turn around and send them to another calendar publisher.
Sell to Stock Agencies
Rather than directly approaching calendar publishers, consider licensing your photos to stock agencies. Stock agencies handle all of the sales of your photos to companies that want to license the photos, including calendar companies, in exchange for a cut of the payment. Look at the online galleries of various stock agencies to see if they accept photos similar to what you take. If so, contact the agency to request specifications on how they review photo portfolios. Then, submit you work to see if they're interested in marketing your images to calendar companies.