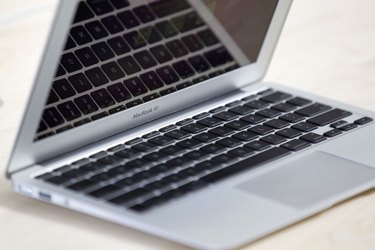 Mac computers are known for their user-friendly interfaces and easy-to-access features but PCs are still the dominant computer on the market. Applications such as Microsoft Word are used by far more people than Apple's Pages for word processing. Mac applications do not automatically save text documents in the DOC file format of Microsoft Word, which can cause compatibility issues. Fortunately, several applications, including Microsoft Word for Mac OS X and Apple's Pages, allow you to work with Word documents on a Mac.
Microsoft Word for Mac OS X
The Microsoft Office software bundle, including Word, is available for Mac OS X. Microsoft Office for Mac OS X 2011 includes all of the same features as Microsoft Word for Windows. All documents created with Microsoft Word for Mac OS X 2011 are compatible with all versions of Microsoft Word, regardless of whether the computer is running Mac OS X or Windows. You can purchase a single license of Microsoft Word to use with one computer or multiple licenses to install on more than one computer.
iWork
IWork, which is a software bundle developed by Apple, consists of Pages, Keynote and Numbers. These applications are Apple's equivalent of Microsoft Word, PowerPoint and Excel. Although documents created in iWork have Mac extensions, each application allows you to export documents to be compatible with Windows and Microsoft Word. To export a Pages document in Word format, click "File," then choose "Export." Select the "Word" tab and click the export button. You must purchase iWork separately; it does not come with Mac OS X.
Opening Word Documents on a Mac
You can use Pages to open Microsoft word documents. Select "File > Open," then select your document; Pages will automatically convert the format. Certain text styles and formatting may not import from Microsoft Word to Pages. You can also use TextEdit, which comes with Mac OS X to open Microsoft Word documents. TextEdit is a basic word processing program with limited formatting. TextEdit is located in your "Applications" folder. To choose between available applications, hold the "Option" key and click your Microsoft Word document. Select "Open with" to reveal a list of compatible applications.
Other Applications
Several free, open source office software bundles are available for Mac OS X, including OpenOffice and NeoOffice. Both OpenOffice and NeoOffice feature word processor, spreadsheet and presentation applications similar to Microsoft Word, Excel and PowerPoint. OpenOffice and NeoOffice allow you to open Microsoft Word documents and export documents in Microsoft Word format.