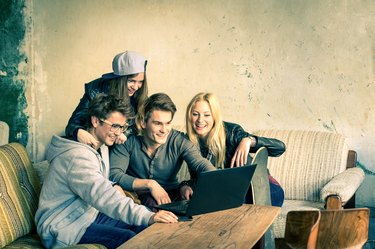 Creating a collaborative video montage is an incredibly meaningful gift to give someone, especially if you want them to cry (happy tears, of course). Whether it's for someone's birthday, an anniversary, a wedding, a teacher, or for a moving away gift, you can do it all through Tribute.
Create a personal webpage using the app to let contributors know who the montage is for and the occasion. Select a due date for video submissions and choose from one of three packages.
The project can be more DIY, or you can choose a more expensive package and have Tribute do the leg work for you.
Invite whoever you want to participate in the video montage by entering their email addresses. They'll be directed to your webpage where they can learn about the montage you're creating and upload a video of any size. Tribute will schedule automatic reminders to make sure everyone remembers to submit their video.
Once all the videos are collected, they're automatically compiled. Using the app's editor, you can set the order and add cool effects. Once complete, click publish, and a high definition video will be sent.
You can choose for the video to be sent via a bamboo USB:
Or a 4" or 7" LCD card that they can play anywhere:
Click here to get started.