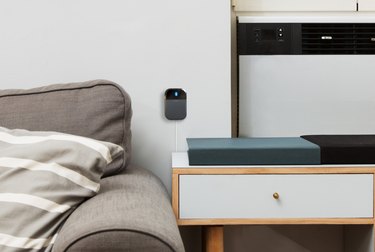 When it's unbearably hot outside, walking into a sweltering house is not ideal, but it also isn't ideal to leave your air conditioning running all day when no one's home. Sensibo Sky is the smart solution to a sweaty problem.
Sensibo Sky is a connected device that turns your standard remote controlled AC unit into a smart one. The device connects to your air conditioner to allow you to turn the unit on and off and change the temperature from anywhere. Cooling your house down before you get home is important, but ultimately, you're also saving money.
All major brands are compatible with Sensibo, including Carrier, Frigidaire, Hisense, Samsung, LG, and more—they just need to work with a remote control. The device also works with heat pumps when you want your place warm in the winter.
The device has the capability of being set up with Amazon Alexa and Google Assistant, so you can turn on the AC without lifting a finger (sometimes it's too hot to lift fingers).
Buy Sensibo here starting at $119 for a single kit.