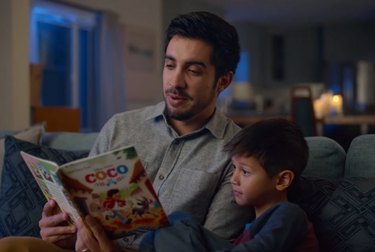 Reading children's books is becoming an interactive experience. Google Home and Disney have partnered to launch interactive Little Golden Books in an attempt to make reading physical books more entertaining.
The new interactive storytelling feature for Google Home devices uses voice recognition technology to add music and sound effects to books as they're being read out loud, according to Google. If you skip ahead or re-read a page in the book, Google Home will recognize that change and adjust to match the story. If you pause for any reason, ambient music will play until you start reading again.
Available books include classics like "Peter Pan," "Cinderella," "Alice in Wonderland," "The Three Little Pigs," and "Mickey Mouse and his Spaceship," as well as new favorites like "Moana," "Toy Story 3," "Coco," "Jack Jack Attack," More books will be added in the coming months.
Starting this week, you can purchase compatible stories alongside Google Home Mini in the books section of your local Walmart, Target, and Barnes & Noble.