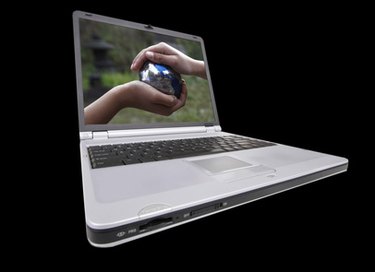 Turning a screenshot into a PDF preserves the screenshot exactly as it appears on your computer. By saving a screenshot in the Portable Document Format (PDF), you'll also ensure that it can be opened on any computer that has a free copy of Adobe Reader.
On a Mac
Step 1
Take a screenshot by pressing "Command" + "Shift" + "3." A PNG file of the screenshot will appear on your desktop.
Step 2
Double-click on the screenshot PNG file. The file will open in Preview by default.
Step 3
Click "File" and select "Print."
Step 4
Click "PDF" in the print menu and select "Save as PDF."
Step 5
Name the file, choose where you'd like to save the PDF and click "Print."
On a PC
Step 1
Take a screenshot by pressing "Print Screen" on your keyboard.
Step 2
Open Microsoft PowerPoint and create a new blank presentation.
Step 3
Click "Edit" and choose "Paste" to paste an image of the screenshot into Microsoft PowerPoint.
Step 4
Size down the image of the screen shot so that it fits onto the PowerPoint slide.
Step 5
Click the "Microsoft Office" button.
Step 6
Hover your mouse over "Save As" and select "PDF."
Step 7
Name the PDF file and click "Publish."