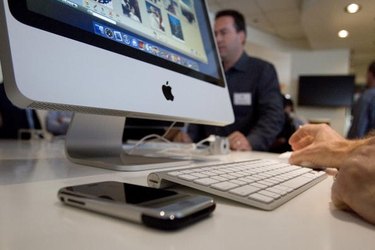 When you receive an email message from someone with Mac Mail, the free email application that Apple installs on every Mac, you might want to save a copy of the letter as a PDF file, so you can use it on a different computer. A PDF document looks the same no matter what computer it's opened on, using an application such as Adobe's free Adobe Reader or Apple's Preview.
Step 1
Click "Mail" from the Dock on your Mac to launch the application.
Step 2
Double-click an email message from the Mail application window to open it.
Step 3
Click "Print" from the Mail menu. A box opens.
Step 4
Click the "PDF" drop-down menu, then click the "Save as PDF" option.
Step 5
Click a folder on your Mac where you want to save the email message to a PDF file. Type a name for the PDF in the "Save As" text box, then click "Save." The email message is converted to a PDF file in the folder you designated.