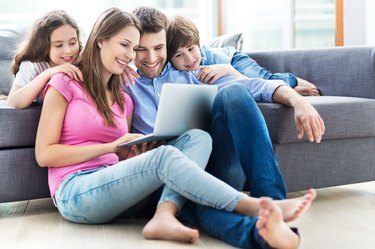 When you want to send a PDF file, which stands for "portable document format," to someone over the Internet, the easiest way is to attach the file to an email. PDFs can be read by both PC and Mac computers using programs such as Apple Preview or Adobe Reader. As long as the PDF file is not excessively large, you will be able to attach it to an email message and send it to anyone.
Step 1
Open the PDF file that you want to send and save a copy of it to your computer's desktop.
Step 2
Open your desktop email client, like Microsoft Outlook or Apple Mail, or use a Web browser to go to your email in-box.
Step 3
Click on the "Compose" button to create a new email message.
Step 4
Address the email to the intended recipient, and then fill out the "Subject" and "Body" fields as you would with a normal message.
Step 5
Click on the "Attach" button and navigate to your computer's desktop. Select the PDF that you saved in Step 1 and then click on the "Attach" button.
Step 6
Repeat Step 6 for any additional PDF files that you want to attach, and then send the email as you normally would.