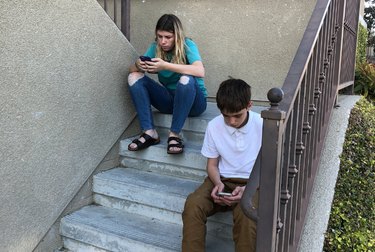 Kids spend too much time on their phones or devices. Like, way too much time.
According to a recent report from the American Heart Association, kids shouldn't be spending more than one to two hours a day with their phones, TV, computer, or video games. But the average eight-year-old spends eight hours a day using various forms of media, while teenagers often spend more than 11 hours a day using a screen.
Based on their media habits, getting kids to cut back on screen time can be a lot easier said than done, but a new app called Goya-Move aims to help.
Goya-Move (Goya stands for Get Off Your Apps) allows parents to set activity/movement goals for their kids, and before the kids can use their favorite apps on their phones, they have to complete the goals. The goal being for the child to take a certain amount of steps per day or per hour.
The app, which is a national PTA partner, can be accessed from the both child's phone and the parent's phone, and the parent is able to modify the goals and screen time at any time. Goals can be set by the parent, or together with the child, which according to the creators, "is a great way to open up a positive conversation about moderation of time spent on the cell phone and accountability to prioritize and perform steps/exercise/movement into the child's life daily." Pediatricians recommend about 10k steps a day, which is around four miles.
Once the activity goals are met, the blocked apps become accessible. The app doesn't suggest parents punish kids by taking their phones away, instead it teaches moderation and encourages kids to balance their screen time with active time.