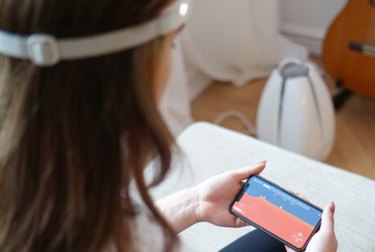 If you're into brain games and are looking for activities to do during this weird stay-at-home time, here's one to consider.
Mendi is a brain training headband that can strengthen your brain—even more so than meditation or puzzles like Sudoku, according to the company that makes it.
The app uses interactive exercises that require concentration, and the headband reflects your brain activity in real time. It's actually very relaxing and might help relieve some of the stress you're feeling during the COVID-19 health crisis.
The device is designed to improve mental wellbeing. Clinics use it for research in preventative care for people who experience stress, anxiety, ADHD, sleep issues, memory problems, depression, migraines, dyslexia, autism, PTSD, and more.
It can also improve brain function for those who want to take their performance to higher levels, like artists, athletes, entrepreneurs, executives, pilots, students, etc. But ultimately, Mendi is proven to have a positive impact on general health.
Mendi is currently raising funds on Kickstarter. If you back the project now, you can get a device for $299, otherwise the retail price will be $499.