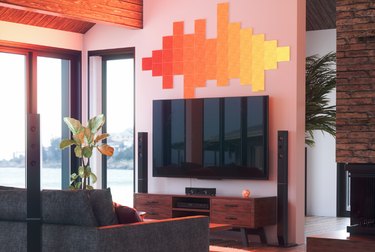 We're about two months into stay-at-home orders, which means you've likely spent more consecutive time in your home than ever before. Are you sick of it yet? Well, even if you aren't, it's never a bad time to spice up your home decor.
Nanoleaf Canvas is a touch-controlled smart light with a modular design made up of light squares. It's a light that can be hung on a wall or ceiling and used as both functional and ambient lighting. You can use scenes that already exist, or you can build your own—whether you want them to stand out or blend in.
You can set personalized scenes with more than 16 million color combinations, depending on your mood or activity. Touch any square to turn the light on or off, change your entire lighting display, adjust brightness, switch scenes, and start a music visualizer—rhythmic scenes that dance to music.
Interactive touch controls react to your touch, or you can control the lighting using the Nanoleaf app or your voice. The Canvas is Google Assistant and Amazon Alexa-enabled, so you can say things like, "Hey Google, set my lights to date night" or "Alexa, dim my bedroom lights."
Here's the price breakdown:
The 9 Light Square Smarter Kit is $230, or $22 a square. The Devious Brain Genie Design Kit is $500, or $20 a square. The Strutting Pup Design Kit is $350, or $30 a square.
If you're into the design of the lights but prefer different shapes, Nanoleaf Shapes are a new set of unified light panels available for pre-order now. The first shape to launch will be hexagons, and it will be part of a series of panels that will work together to offer even more shapes and design opportunities. You can pre-order here for delivery in June.