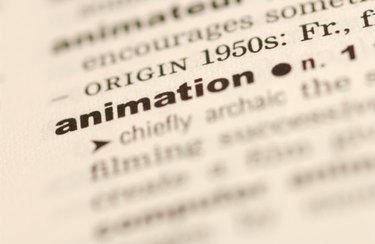 The GIF file format is commonly used for logos, icons, and other digital images that contain 256 colors or fewer. Unlike JPEG and PNG file types, GIF uses lossless compression and can be used for short animations and film clips. Creating complex animations requires the use of professional illustration programs such as Adobe Flash or Toon Boom, but GIF animations can quickly and easily be made with a simple graphics program such as Paint.NET.
Step 1
Download the Animated Image plug-in for Paint.NET from Softpedia.com. Double-click the downloaded file to extract the plug-in. Open the main Paint.NET application folder and open the "FileTypes" folder. Drag the Animated Image plug-in into the "FileTypes" folder.
Step 2
Open Paint.NET. Click "File," "New." Enter the size in pixels of the canvas for your animation. Click "OK."
Step 3
Create the first layer of your GIF animation. Click "Layers," "Create New." Draw the first frame onto Layer 1 using the paintbrush or pencil in the "Tools" menu or use the "Copy" and "Paste" functions to copy an image onto your canvas.
Step 4
Use the "Layers" menu to create additional layers for each frame of your GIF animation. Use the paintbrush, pencil, eraser and other tools to edit each layer so that each subsequent image gradually approaches the desired result of the animation.
Step 5
Click "File," "Save As." Name the file and use the drop-down box to select ".AGIF" as the file type for your Paint.NET project. Click "OK." Adjust the settings for "Delay" between each frame as well as the "Repeat" setting. Click "OK." Open your newly created GIF to make sure the animation looks correct.