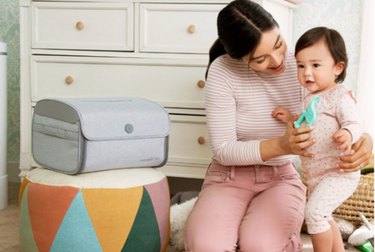 Babies are adorable, but their toys are gross. They may look clean, but after being sucked on, chewed on, and slobbered on, they're full of bacteria and germs. More often than not, they need a solid cleaning, but more often than not, you're too busy to clean them.
Munchkin's new Nursery Sterilizer is a lightweight bag that can sterilize toys, stuffed animals, dolls, pacifiers, bottles, and other household items—including your phone. It cleans all the things so you don't have to. Plus, it cleans the things that can't (or shouldn't) be washed—like your child's favorite blanket or stuffed animal.
The bag was created in partnership with 59S, the global leader of UVC LED sterilization, to create a product that employs the same technology used in hospitals to decontaminate surgical equipment.
The bag reduces odors and kills up to 99% of bacteria and viruses in 5 minutes, including Staph, E. coli, RSV, Salmonella, Kleb, Influenza, Human Coronavirus (ATCC VR-740, Strain 229E) and other common germs. The SARS-CoV-2 strain that causes COVID-19 wasn't specifically tested, so its best to wash anything that may have been exposed with soap and water.
The sterilizer is safe to have around babies, as it includes an auto-shut off when the flap is opened. It breaks down into a packable size, so it's portable and can be easily stored.
Buy Munchkin's Nursery Sterilizer from Target for $130.