Finally, the device we've all been waiting for — an air purifier that effectively eliminates COVID-19.
Aura Air is an all-in-one air solution that detects, purifies, and predicts high-risk air scenarios (scenAIRios?) while sending real-time notifications to the user. It can be used both indoors and outdoors, and it adapts its functionality depending on where you place it. Although, if you're using it to fight COVID-19, indoor placement seems to make the most sense.
The device purifies and detects air through five different filters, all of which will give you the peace of mind you've been hoping for since the beginning of the pandemic.
Here is what the company says about the filters:
"Pre-filter, Patented Ray-Filter™ consisting of three parts: HEPA filter (99.98% effective particle filter of 0.3 microns), Carbon Layer (absorbs VOCs and bad odors), and Smart Copper Fabric (filters viruses and bacteria), UVC LED, and Sterionizer™ technology that generates positive and negative ions to purify and freshen indoor air while neutralizing bacteria, viruses and parasites by destroying the proteins on the cell membrane."
In other words, hang this bad boy in your home and you'll literally and figuratively be able to breathe easy, because Aura Air effectively eliminates 99.96% of COVID-19 virus particles. It also functions as a carbon monoxide and smoke detector.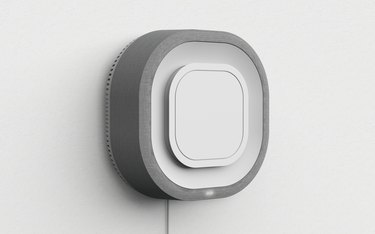 The company (Israeli-based startup, Aura) recommends using Aura Air in spaces up to 600 sq. ft. The Aura app provides real-time monitoring along with recommendations, and it's smart home enabled for use with Amazon Alexa and Google Home. A built-in air quality assistant can even personalize the device to your needs and health necessities.
Aura Air is available here for $549.