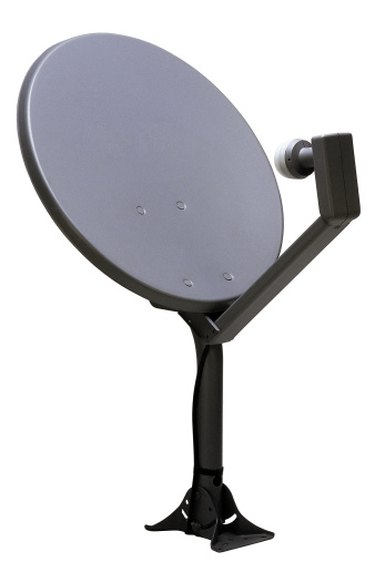 It's important to ground your satellite dish upon installation to reduce the chances that it could be struck by lightning, according to Todd Humphrey of DBS Install. Although it can't prevent a lightning strike, it can decrease the odds of a strike damaging your satellite dish or your equipment inside your house.
Grounding Your Satellite Dish
Todd Humphrey of DBS Install explains that the three main satellite television providers -- Hughes, Dish Network and DirecTV -- require their systems to be grounded. There are two main ways in which this can be accomplished -- by installing a ground wire or a ground pole. Humphrey says it's crucial to follow the grounding instructions set forth by the company or have a professional installer do the work; it often is the most "misunderstood" part of installing a satellite TV dish.
Lightning Strikes Vary in Intensity
According to the Lightning Protection Institute, lightning strikes vary in intensity so the effects of a lightning strike on a satellite dish or its components will depend on the strength of the strike. A minor lightning strike would likely follow the path of the cables without any discernible damage. A stronger strike could destroy the wires altogether. One news report from the Sun Patriot in Waconia, Minn., tells the story of a home that caught fire because of a lightning strike to a satellite dish.
If Lightning Strikes
Strike, a company that specializes in home lightning protection, explains what can happen if a satellite dish is struck by lightning. It says the electrical surge created by the strike can travel throughout a home, potentially setting fires along the way. Humphrey says a lightning strike could also destroy the dish.
Satellite Dishes as Lightning Protectors?
Boston Lightning Rod, Inc. says contrary to what many believe, satellite dishes do not protect a home from a lightning strike. In fact, the company recommends that homeowners take down unused dishes to prevent a strike from happening because satellite dishes are prime targets. Even surge suppressors, which are commonly used throughout the home, cannot prevent the ill effects of a lightning strike on a satellite dish and its cables and components.