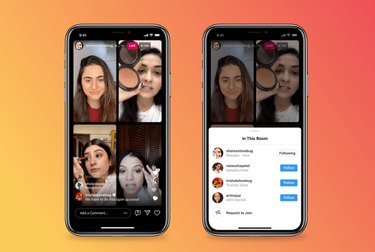 Instagram just got a little more like Zoom, but with an audience. The social media platform introduced Live Rooms this week, which gives users the ability to go Live with up to three people. Previously, you could only go live with one other person.
The hope is (Instagram's hope, that is) for people to use the "doubling up" on Live feature to be more creative, like start a talk show, host a jam session, lead a workout, do some Q&As, co-create with other artists, or just hang out with more friends.
Live Rooms also gives creators more of an opportunity to make money when viewers buy badges in support. Viewers can also buy badges for the hosts and use other interactive features like Shopping and Live Fundraisers within the rooms. It's basically a way for viewers to tip the hosts.
There are some restrictions to help make Live Rooms safer. Anyone who has been blocked by any of the participants won't be able to join. If someone has been banned from Live for violating Community Guidelines, they won't ever be able to join a Live Room.
Hosts can report and block comments, and they can also apply comment filters. Over the next few months, Instagram says it'll be adding more moderation tools.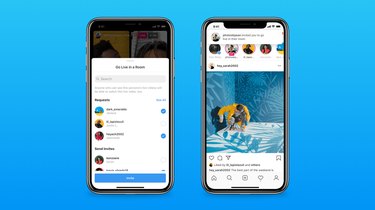 Open Instagram and swipe left. Choose the Live camera option. Add a title and tap the Rooms icon to add your guests. You can do a search to find your guests to make things easier. That's also where you'll see anyone who has requested to go live with you.
When you're the host of a Live Room, you'll remain at the top of the screen when guests are added. You can add three guests all at once or one by one when the time is right. To increase your reach when you start a Live Room, your guests' followers can also be notified.