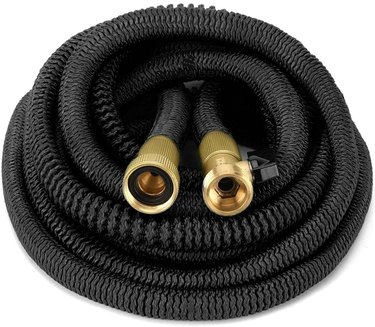 It's gardening season. While you might be knee deep in soil, mulch, and seeds, there's a hose being sold on Amazon that might change your life — or at least your yard aesthetic.
The GrowGreen Heavy Duty Expandable Garden Hose is a genius solution to bulky eye sore hoses that take up space in your yard. The hose fits into a small bag (or bucket or wherever you want to store it) when not in use, and it expands to three times its size when the water is on.
Not only is the hose space efficient, it doesn't tangle, twist, or kink. It's flexible and easy to roll into the included storage sack. It comes with brass fittings, and it's available in four sizes: 25 ft, 50 ft, and 75 ft, and 100 ft. This hose will truly make a huge difference in the way you water your plants, garden, yard, kids, wash your car car, etc.
After each use, it's recommended to spray out all the leftover water for the hose collapse to its regular size. Also, the hose comes with a lifetime warranty, so if anything goes wrong with, simply contact the manufacturer to make things right.
People are obsessed with this hose, for good reason. Here are a few promising reviews (it has almost 4,000 5-star Amazon ratings):
"Collapsible hoses are known for their amazing feature of disappearing into a small pile of practically nothing when there's no water inside. This hose of course does the same thing as others on the market. So what makes it different? It's the dependable quality of both the hose and the hose-end fittings, the "true" length of the hose, and it's amazing durability. This is my second one, and the first lasted for over two years, with constant abuse over the summers, cars running over it, people walking over it, and time after time it just worked, no leaks at all, collapsing and expanding, sitting for days on end in the hot sun."
"This a better quality hose than the cheaper ones found at most stores. After reading some other reviews, I attached an old short hose to the water faucet bib first, then this longer hose. This prevents excessive stress due to bending the expandable hose where it would have attached to the faucet."
"After investing in some rather expensive hoses and having them all fail, I thought I would try this brand solely based on consumer opinion. For the price, you cannot go wrong. In terms of quality, the materials used to manufacture are incredibly strong and durable. The connection ends are heavy, solid and attach perfectly and effortlessly to the outside water. This is the perfect purchase for someone who needs the length and durability of a heavy duty hose, but without the heavy duty price tag. I won't worry about where to put the hose either, as it comes complete with a storage bag for simple put away needs."