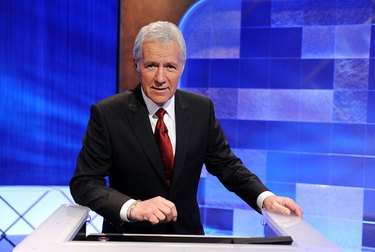 Since the loss of Alex Trebek last year, a series of rotating hosts filled in on ​Jeopardy!​. It was sort of like tryouts to fill very big, very beloved shoes. After lots of circulating rumors, the new host has finally been announced — except it isn't just one host, it's two. (And it isn't ​Jeopardy!​ champ Ken Jennings or LeVar Burton.)
The show's current executive producer Mike Richards and actor Mayim Bialik (best known for ​Blossom​ and ​The Big Bang Theory​) are the new permanent co-hosts of ​Jeopardy!​. This marks the first time two people will host the gameshow.
Richards is the official host of the daily syndicated program, while Bialik will lead "primetime and spinoff series, including the upcoming all-new ​Jeopardy! National College Championship​ set to air on ABC next year, as the studio looks to extend the ​Jeopardy!​ franchise to new platforms," according to a statement by Sony Pictures Television.
Both Richards and Bialik previously guest hosted the show for two weeks. And contrary to the many, many rumors on Twitter, Richards didn't choose himself to be the new host.
In a statement, Ravi Ahuja, chairman of global television studios and corporate development for Sony Pictures, wrote: "We took this decision incredibly seriously. A tremendous amount of work and deliberation has gone into it, perhaps more than has ever gone into the selection of hosts for a show — deservedly so because it's ​Jeopardy!​ and we are following the incomparable Alex Trebek. A senior group of Sony Pictures Television executives pored over footage from every episode, reviewed research from multiple panels and focus groups, and got valuable input from our key partners and ​Jeopardy!​ viewers."
The new season of ​Jeopardy!​ is set to premiere on Sept. 13 on ABC.