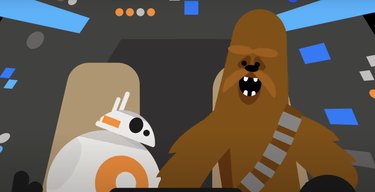 Headspace and Star Wars have joined forces to give kids and their families the tools to find their force, focus like a Jedi, and create conditions for the best sleep in the galaxy.
The partnership consists of a four-part animated series on YouTube that follows that adventure of Chewbacca and BB-8 as they travel across the Star Wars galaxy.
The first episode is all about how to cope with frustration when it arises. Chewie and BB-8 are on a journey to visit Kashyyyk, Chewie's hometown. There's a mechanical issue, and the two friends become increasingly agitated. The narrator, Headspace's Samantha Snowden, offers advice on how to handle a frustrating situation when things don't go the way you want them to.
Here's the first episode:
Other episodes focus on breathing techniques, wind-down exercises to help with sleep, and finding gratitude and appreciation. All four episodes are geared towards kids but offer great tips for parents too.
To get started on your journey with Headspace and Star Wars, head over to the Headspace website or iOS or Android app where you can sign up for a free trial. After that, a Headsapace subscription is $64.99 for the year or $12.99 per month.