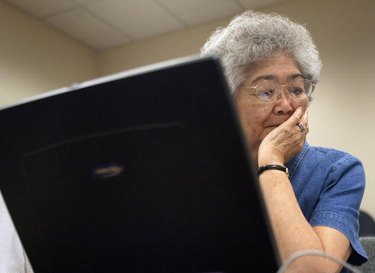 Microsoft Word is part of the Microsoft's Office suite of software. It is a word processor, meaning its main function is the writing and editing of text documents. Microsoft has developed Word to be the premier word processor used by PC owners, and it is often bundled with new PC purchases. It is also available separately at many office supply and software retailers.
Word Processing
The primary objective of MS Word is to enable you, the user, to create and edit documents. This is the word processing component, and it allows you to type whatever you want and save it to view or edit later. These saved files can also be sent to another person, who can view it with her own word processing software.
Editing
Word features numerous editing tools for your documents. You can change margins, font, text size and other features. The size of the line breaks can be adjusted, as can the color of the text. The text can also be cut and pasted anywhere in the document by manipulating the many editing options in Word.
Compatibility
Microsoft Word features compatibility with many different types of text documents. The main format used by Word is the ".doc" format, with ".docx" used in newer versions of Word. Word can also read text documents in many other formats, with newer versions of Word able to download compatibility patches to enable it to read formats it isn't natively designed to read.
Ubiquity
By bundling Word with new PCs and providing free and discounted copies to schools, students and offices, Microsoft is seeking the ubiquitous presence of their software. Microsoft Office products are even available on Apple Macintosh computers .
Track Changes
A popular editing tool in literary and print circles, "Track Changes" is an option that can be turned on in many word processors, including most versions of Word. This tool marks any changes made to the document and allows the original document to be viewed simultaneously. These changes can later be viewed and accepted by the document's original author. Each change can also be marked with explanations so viewers can see why certain changes were made, along with indications of which user made the change.
Protecting Your Documents
Word allows "Read Only" documents to be produced that cannot be edited later or can only be edited in certain spaces. This is useful when creating official documents that need to be reviewed and digitally signed. By allowing only the signature line to be editable, the rest of the document can be guaranteed safe from any changes made by the signer.
Easy to Use
Word is designed for ease of use. When opening the program, you are presented with a blank document upon which you can immediately begin placing text. All of the most basic editing options, like bold, italics, underlining and font size, are readily available in the default toolbar, with the more advanced options inside sub-menus and various other toolbars. Any user can easily hammer out a letter or a shopping list, while more advanced users can dig deep to uncover more powerful options.
Styles
Word offers several options designed to be more stylistic than a plain text document. Word allows the addition of text borders, as well as clip art and other images. Styles you like can even be saved in the "Quick Styles" section for easier use. By using these, you can click a button and any font choices, like color and text effects, will be all applied at once.
Printing
Of course, a word processor wouldn't be very useful if it weren't able to print documents. Word enables the printing of any document it can open. It will even allow you to manipulate printing options in accordance with your specific model of printer. These include the quality of the printing job and orientation of the paper. Multiple Word pages can even be printed on a single sheet of paper.
Tables/Graphs/Charts
Another option present in Word is the ability to generate productivity-related images like charts and graphs. Bar graphs, pie charts, line graphs and other related types of images can be generated. Open the chart options, input your data, select your graph or chart style, and Word will generate it for you. It can then be resized and placed anywhere within the document.