Every computer user has experienced the unfortunate and frustrating circumstance of losing a file they have been working on during a computer crash or loss of power. If you use Microsoft Word, however, there is a very convenient feature that will allow you to minimize the loss of data during a crash. Auto Recovery allows for Word to periodically save your file while you are working on it so that you can recover it at a later date.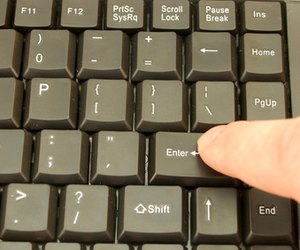 Setting up Auto Recovery
Step
Open "Tools" from the top tool bar.
Step
Click "Options" and open up the "Save" tab.
Step
Select "Save AutoRecover Info every ## Minutes." Choose how long you want your system to wait before it saves the information of your document for recovery. The smaller the interval between saves, the more taxing it will be on your system. However, this may save you time in case your system crashes.
Users of Word 2010 do not need to set up this feature, due to it being a default setting with this program.
Setting up a Location for Auto Recovery Files
Step
Open the "Tools" menu and select "Options."
Step
Click "File Location" tab.
For Word 2007, click on the Microsoft Office button and open up "Word Options." Click "Advanced" and in the right pane, open "File Locations" in the "General" section.
Step
Select "AutoRecover Files" from the "File Types" box. Then click the "Modify" button.
Step
Choose a name for the folder you want to have your Auto Recovery files saved to and enter the name. If you want a new folder, click "Create New Folder" and then click "OK." Auto Recovery files will save as -document-.asd, where -document- is your document's name.
Opening Auto Recovery Files (Word 2002 and 2007)
Step
Start Word, which will automatically search for any .asd Auto Recover files. When it finds one, it will change the extension to .wbk. Word will also open all "Auto Recover" files.
Step
Close the "Auto Recover" file if you wish to discard it. After closing the file, the .asd file will be deleted to conserve hard drive space.
Step
Rename the "Auto Recover" file as you see fit when saving the file. Once it is saved as a normal Word document, the system will deleted the .asd file to save disk space.
Opening Auto Recovery Files (Word 2010)
Step
Click "File" on the top tool bar and select "Recent" in the dropdown menu.
Step
Click "Recover Unsaved Documents" at the bottom of the window.
Step
Click "Save As" at the top window that alerts you the document is a draft version to avoid it being auto deleted after four days. Choose what name and where you want to save your document.