Microsoft Word's AutoRecover feature periodically saves your document while you're working in it, even if you forget to save it manually. If you close the document accidentally, Word closes improperly or you unthinkingly write over a document or change something important, this function can save you from losing all your work. Although Word doesn't AutoSave constantly, it might have automatically saved your lost document more recently than you manually saved it. Word 2010 makes this rescue process even easier than earlier versions of Word; it stores all recently AutoSaved versions of your documents under the "File" tab.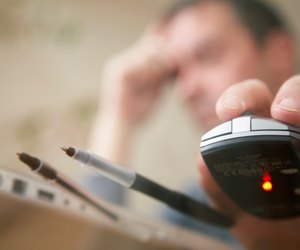 A Different Version of a Saved File
Step
Open the document for which you lost information. For example, perhaps you were working in a document that you had previously saved, but then Word closed and you lost your most recent work.
Step
Click the "File" tab.
Step
Click on the most recently AutoSaved version of the document under the Versions heading, next to the "Manage Versions" icon.
An Untitled, Unsaved Document
Step
Open Microsoft Word. Even if you never saved the document, and you can't find the file on your computer because you never gave it a name, Word might have saved a version of it.
Step
Click the "File" tab.
Step
Click "Recent" on the left column of the File screen.
Step
Click the "Manage Versions" icon at the bottom of the middle column. On the drop-down menu, click "Recover Unsaved Documents." Word presents an Open dialog box, taking you directly to the Unsaved Files folder that Word automatically created.
Step
Click on the document that you want to open, then click "Open" at the bottom of the dialog box.
Step
Click the "Save As" button on the yellow bar that appears above the document, below the Ribbon; in the pop-up menu, give your document a name, choose its storage location on your computer and click "Save."