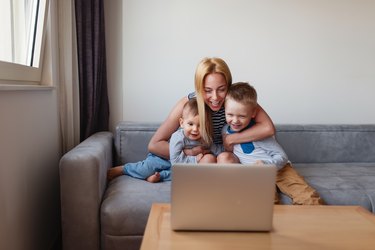 Skype lets users communicate with multiple people at one time. Computer to computer voice chat is free with multiple people, but video chatting with more than two people requires a Skype Premium subscription, which can be purchased for one day, one month, three months or 12 months. Video chatting with a group requires Skype 5.0 or higher.
How Many People Can Video Chat
A group of up to 10 people can group video chat at one time. Skype recommends no more than five people group chat to maintain the quality of the voice and video connection.
How to Purchase Skype Premium Subscription
At least one member of the group chat must have a Skype Premium subscription. The person with the subscription can start the call and add the other members of the group to the video chat. To purchase a subscription, go to Skype's homepage. Roll the cursor over "Prices" and click "Skype Premium" from the drop-down menu. Choose the length of subscription you want and click "Buy Now" under the subscription column. You can purchase a day pass up to a one-year subscription.
Start Group Video Chat
Sign in to Skype. Click on the name of the first person you want to add to your chat and then click the green button with a video camera symbol inside. After the call has connected, click "Add People" at the bottom of the screen, and then choose the other people you want to add to the call. After the other members of the group have answered the call and their webcams have connected, their videos will appear on your screen.
Start Conference Call
A group voice chat does not require a subscription to Skype Premium. To start a voice chat with more than one other person on, start a call with one person by clicking the green call button next to the person's name. Click the "Add People" button at the top of the call screen to select other people to join the call. Choose the other callers on the "Add More People" window. Click "Select" and then "Ok."