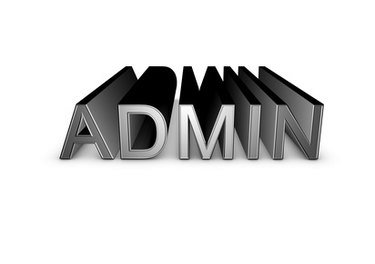 The administrator password on your computer is an important one, as you can only access all of the applications and documents under all usernames as an administrator. Changing your administrator password in the Registry Editor is a fairly simple process, although it requires first resetting your admin password to no password with Offline NT Password and Registry Editor, a free download that does not require you to know your old password in order to set a new one.
Step 1
Download Offline NT Password and Registry Editor (see Resources). Click "Save" and open the program, then click "Install."
Step 2
Restart your computer and launch the program. Select "administrator" and clear the password field to reset the admin password to nothing on your computer.
Step 3
Close the program and reboot your computer. Press "F8" as the computer boots and enter "Directory Service Recovery Mode" to run in Safe Mode.
Step 4
Press "Ctrl," "Alt" and "Del" when the welcome screen appears. Enter "Administrator" in the username field and leave the password field blank.
Step 5
Click "Start," type "Regedit.exe" and press "Enter" to open the Registry Editor. Navigate to the "HKEY_USERS.Default\Control Panel\Desktop" registry key. Change "logon.scr" to "cmd.exe," change "900" to "15" under "ScreenSaveTimeout," and set the "ScreenSaveActive" to "1" (it may appear as "1" already; change it if it isn't).
Step 6
Restart your computer and ignore the dialog box requesting you to press "Ctrl," "Alt" and "Del." When the next prompt appears, enter "MMC DSA.MSC," which will open a window.
Step 7
Right-click "Administrator" and select "Reset Password." Enter your new password in both fields for confirmation and press "OK."
Step 8
Close the window and type "Exit" in the prompt that opens. Press "Ctrl," "Alt" and "Del" and log in with your new admin password.