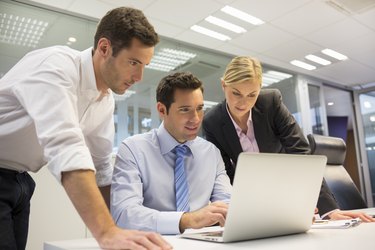 In today's business climate, competitors may be as close as the next website or email message. One way to gain a competitive advantage is to learn how computers can help your business. You may know about email, accounting and word processing programs, but other software exists that can increase productivity, attract new customers, reduce costs and save you time.
Computers Facilitate Communication
Email services, such as Yahoo and specialized services, like HushMail help businesses send and receive electronic correspondence. Many online email services also enable you to voice chat with others over the Internet. Companies can also use applications such as Outlook to manage business mail, track events and help employees schedule meetings. Skype, Google Hangouts and similar programs give you the ability to hold remote video meetings with people from around the world. Many of these communications platforms also work on smartphones and tablets.
Data Mining Benefits
Businesses often acquire and store massive amounts of information in relational databases, spreadsheets, XML files and other repositories. Learn to use data mining techniques and you can tap into a valuable undiscovered source of business intelligence. Data mining software can help businesses identify patterns and discover new relationships in historical data. Although data mining can help small companies, it's particularly useful for businesses with large amounts of complex data. Businesses that use data mining can boost sales, acquire new customers, improve productions, increase customer satisfaction and predict future business trends.
Customer Relationship Management
Stand-alone software exists that can help business owners find, service and retain customers. Modern CRM applications integrate many of these functions into a single, unified system. Typical tasks that full-featured CRM apps perform include contact management, customer service and sales force automation.
Order Fulfillment
Fulfilling orders can be a time-consuming task, because it may require the assistance of people in accounting, the warehouse, inventory control and shipping departments. Computers make it easier for businesses to automate and speed up time-consuming order fulfillment processes. For example, an order fulfillment application may use barcode scanners to record product information as a product moves from the warehouse to the shipping trucks. Order fulfillment software can also tell you when to replenish your inventory.
Design and Graphics
You don't need to hire a professional graphic artist to create professional looking graphics for your business. Tools, such as image editors and desktop publishing applications, can help novices create Web buttons and banners, draw logos, create marketing materials, enhance photos and produce newsletters. Programs, such as PowerPoint and Open Office Impress, can help you create powerful business presentations by clicking buttons and dragging your mouse. Video editing programs also give you the power to produce your own company videos that you can use for advertising and marketing. Computers can also connect you to the Internet where you can download free graphics that you can customize.
Marketing and Advertising
There are several ways for businesses to advertise and market their services. Many business owners use computers to tap into the power of social media sites, such as Facebook and Twitter. In addition to advertising products and services on these sites, businesses can use software to design and manage email marketing campaigns that target potential customers.
Using Computers to Manage People
Human Resources software can help businesses do everything from find potential employees to discipline them when problems occur. By storing employee information in a central repository, HR applications also make it easier for HR personal to track employee performance, maintain information about benefits and communicate with employees efficiently. Many HR apps also give HR managers the to generate reports that profile specific employees.
Computer Administration
Regardless of the size of your business, it's important to keep your computers secure. If you have a large company, ensure that your IT department has the skills necessary to set up users, install software and keep your network safe. If you have a small office, assign an administrator to manage your computers.