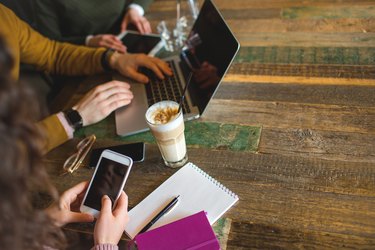 Facebook does not send you a notification when a user downloads a picture from one of your albums. In fact, Facebook offers no way to track or trace any activities within your Facebook profile or auxiliary content. Although you can modify your privacy settings to change who views your albums, there's no way to stop users with access to your albums from downloading photos.
Downloading Photos from Facebook
The Download link for photos on Facebook is located in one of two places, depending on your view. If you're in the lightbox mode, where the photo is displayed in a window hovering above your Facebook page, then it's listed with options to the left of the comments. On the actual page for a photo it's located to the right of comments. If you've offered a high-resolution version of your photo, the download will save the high res version. The photo will be saved to your browser's default download folder.
Editing Album Privacy Options
You can edit who can see your photo albums on Facebook by clicking the "Account" button in the upper right corner and selecting "Privacy Settings." Click the "Customize Settings" link and scroll down to "Edit privacy settings for existing photo albums and videos." Click the link. You can choose the privacy settings individually for each album you own. You can also edit the settings for individual albums by clicking the "Edit Album" link at the top of the album page.
Individual Sharing Settings
If you're concerned about a certain Facebook friend downloading and using your images, or only want to approve certain users to view an album, select "Customize" from the privacy settings drop-down box. You can input certain users to hide your album from, or select "Specific People" from the drop-down menu below "Make this Visible To." This helps you ensure that certain images only remain with family or close friends, or helps hide embarrassing images from colleagues and employers.
Public Link
At the bottom of every album you own on Facebook is a public link, which can be used to share your Facebook albums with anyone on the Internet regardless of your usual privacy settings, even if they don't have a Facebook account. Anyone with a public link can download photos in your album. They cannot, however, access any of your other photos protected by privacy settings on Facebook without a link to the other albums as well. Only the album owner can access the public link for an album.
Smart Photo Sharing
If you're at all worried about a photo you've shared on Facebook being downloaded or shared, it's best to remove the photo from the Internet. Avoid posting pictures that depict activities that are illegal or may otherwise be embarrassing. Avoid posting photos that have other people in them, unless you have permission from the other people in the photos.