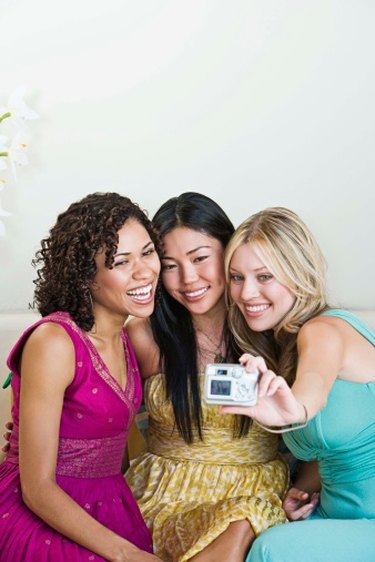 With the growth of online photo sharing and processing services, sharing photos has never been easier. Gone are the days of preparing albums or slide shows of pictures from your recent vacation or waiting several days for prints to come back from the developer. Instead, just upload your digital snapshots to a site like Shutterfly, enter a friend's e-mail address, and within minutes they can see all of the pictures in your online album. And if a friend sends you pictures through Shutterfly, it only takes a few clicks of the mouse to access the images.
Viewing Photos From an E-Mail Notification
Step 1
Click on the link in the e-mail from Shutterfly notifying you that a friend has shared pictures. The link will bring you directly to the album that's been shared.
Step 2
View the photo by clicking on the "See Photos" button underneath the photo on the screen. You can view the photos as thumbnails all displayed on one page, or click on the "Play Slideshow" button to see the photos one at a time.
Step 3
Log in to your Shutterfly account to purchase copies of the photos. You can also add the photos to other products, such as photo books or coffee mugs.
Viewing Photos From Your Shutterfly Account
Step 1
Log in to your Shutterfly account. Click on the My Shutterfly button at the top of the page.
Step 2
Scroll down the page to the "My Shared pictures, videos and projects" section. Click on the "Friend's Shared Pictures, Videos and Projects" link on the left-hand side of that section. Or, click on the "Share" link at the top of the page and choose an album from the "Friend's Shared Pictures, Videos and Projects" section.
Step 3
Click on "See all pictures" in the album. Click on "See pictures," and then choose to view the photos as an album or a slide show.
Tip
You do not have to sign up for a Shutterfly account to view pictures. You will need an account, however, to order prints. While Shutterfly offers a variety of editing and enhancement features for photos, you cannot make changes to your friend's photos. You can only adjust the cropping to better fit a larger size print, or add a black or white border to all of the prints in your order.