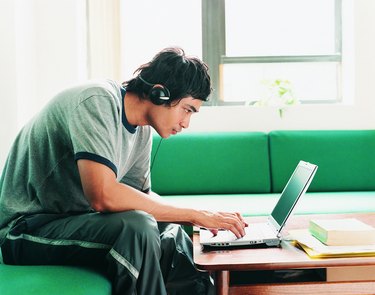 If you are a frequent viewer of Internet-based video, then you know how frustrating it can be when streaming video doesn't play correctly. When a video is described as being "choppy," it can mean several things, including out-of-sync audio, stuttering frame rate and/or inconsistent stream speeds. However, although this term can mean several things, there are several ways to address all of these issues at once and help make your video viewing experience a bit smoother.
Step 1
Empty your Internet browser's cache and temporary files. Click the "Tools" menu and then select "Clear Private Data Now" (in Firefox) or "Delete Browser history" (in Internet Explorer). When you browse the Internet, your browser collects information from the websites you visit and carries this information as temporary and cache files. Too many of these files can bog down your computer, so delete them.
Step 2
Disable hardware acceleration. Open your computer's "Control Panel" and then click "Display." Select the "Settings" tab, click on "Advanced" and then click "Troubleshoot." Drag the hardware acceleration slider all the way to the left. This procedure can help reduce the strain on your processor, which can lead to choppy videos.
Step 3
Add virtual memory. If you are using Windows Vista or 7, you can add extra RAM to your computer by plugging a USB mass storage device into the computer. The operating system will automatically convert the unused space into RAM.
Step 4
Run your disk defragmenting utility. Click "Start" and then select "Programs." Click "System Tools" and then "Disk Defragmenter." This utility will eliminate the fragmenting of files, which could be taxing your processor.