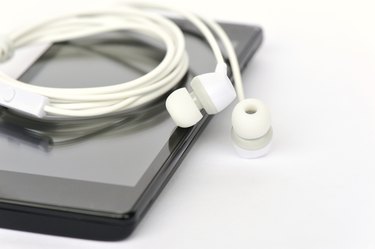 The iPhone offers two muting functions: During a phone call, press "Mute" to turn off the microphone, preventing the other person on the call from hearing you. This setting operates on a call-by-call basis. To mute your iPhone's speaker, change it to Silent Mode using the switch on the side of the phone, and then turn your volume all the way down.
Muting Your Voice
To mute yourself while on a phone call, tap the "Mute" button on the call screen. This screen appears automatically when you move your iPhone away from your ear during a call. If you're using a hands-free setup, wake your iPhone to see the screen with the "Mute" option. If you've left the call screen to use another app, tap the green bar at the top of the screen to return to it. Press the button a second time to turn Mute off and resume your conversation.
Muting the Speaker
To mute your iPhone's ringtone and other alerts, slide the "Ring/Silent" switch on the side of the phone so that you can see the red stripe. Some apps and alerts, such as music players and alarm clocks, will produce sound even with the switch set to Silent Mode. To ensure your phone stays quiet, use the volume buttons to turn the sound all the way down.
Warning
Information in this article applies to the iPhone 5S and all previous models and to iOS versions 7 and 7.1. This information may vary slightly or significantly with other versions or products.