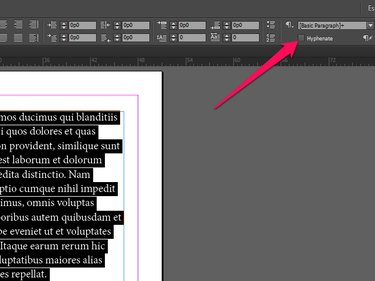 By default, Adobe InDesign CC hyphenates words to make text more aesthetically pleasing. Turn hyphenation off for one or more paragraphs by disabling that feature from the Control panel. Alternatively, prevent InDesign from hyphenating a single word by selecting No Break from the Control panel menu.
One or More Paragraphs
Step 1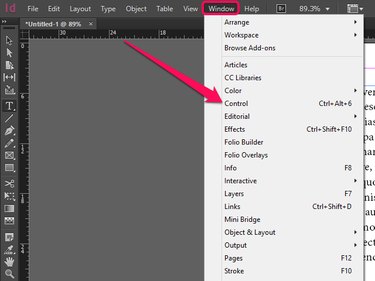 Open the Window menu and select Control if the Control panel is not currently open.
Step 2
Click the Text Tool in the Tools panel and use your mouse cursor to select the paragraphs you do not want InDesign to hyphenate.
Step 3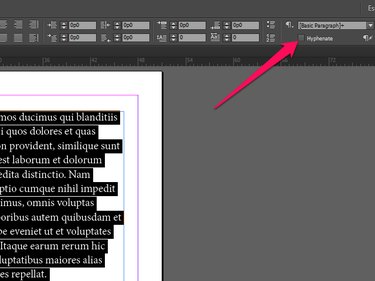 Untick the Hyphenate check box in the Control panel to disable hyphenation for the selected paragraphs.
Single Word
Step 1
Click the Text Tool in the Tools panel and use that tool to select a word from your document.
Step 2
Open the Control panel menu.
Step 3
Click No Break to turn hyphenation off for the selected word.
Tip
Prevent InDesign from inserting a line break in the middle of a compound word -- such as "low-budget" or "mother-in-law" -- by replacing the word's standard hyphen with a non-breaking one. To insert a non-breaking hyphen, press "Ctrl+Alt+-".
Fine-tune InDesign's hyphenation settings by selecting "Hyphenation" from the Control panel menu. Various settings prevent the application from hyphenating capitalized words or restrict hyphenation to words longer than a set number of letters.
After disabling hyphenation for one or several paragraphs, consider saving your paragraph settings as a new paragraph style by opening the "Paragraph Style" menu in the Control panel and selecting "New Paragraph Style." This approach allows you to apply that same, non-hyphenated style to any paragraph in future documents.
Warning
Disabling hyphenation can make your documents less aesthetically pleasing.