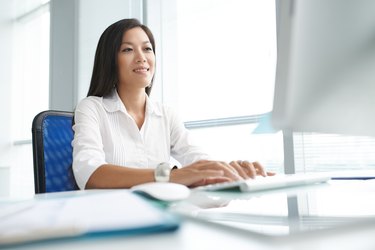 You can access Services.msc to modify the way Windows services run on your computer. Such services are responsible for running available programs and managing many system settings and resources. You can modify a service's settings for security, troubleshooting and/or performance-related purposes. Windows 7 provides access to Services.msc through various means.
Access Services.msc
A common way to access Services.msc is directly through the Start menu. Type "Services" or "Services.msc" into its built-in search field, then press "Enter" or select it from the ensuing list of results. Alternatively, type "C:\Windows\System32" into the search field and press "Enter," then double-click "Services.msc" from the ensuing screen.
Common Settings Overview
Important settings typically include the ability to stop and restart a service. This is usually performed when troubleshooting services that are not properly communicating with their corresponding software, such as a print queue with a large number of pending documents. Services may also be set to start automatically to prevent user intervention, manually to be used only when users launch its respective program, or disabled altogether.
Modify Common Settings
Double-click to launch the service you wish to modify to launch its Properties menu. The Startup Type field allows you to set the service as Automatic (Delayed Start), Automatic, Manual or Disabled. The Service Status field enables you to start, stop, pause or resume said service, depending on your needs regarding its respective program. Changing a service's status typically takes place immediately, while the startup type options may require you to restart your computer depending on the service in question.