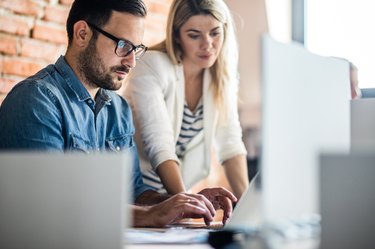 There are many reasons you might want to password protect a folder in Windows 7, but unfortunately, the operating system doesn't include a simple, input-a-password-to-access feature as standard. This doesn't mean there is no way to protect your private files. A built-in encrypt feature is available on Windows Vista, 7, 8 and 10, although not on the Home edition. You can hide a folder in Properties or use a more robust super-hide method for hiding folders than the one most people know. However, if you want to password protect a folder fully, the only way to achieve this is by using third-party software.
Using Built-in Encryption on Windows
The most straightforward approach to putting a password lock – of sorts – on your folder is to encrypt it using Windows 7's built-in features. To do this, right-click the folder you want to protect and select Properties from the drop-down menu. The Properties window opens to the General tab, and then you need to click the Advanced button at the bottom. In the Advanced Attributes window, toward the bottom, is a box beside Encrypt contents to secure data. Check the box to encrypt the folder.
The encryption approach means only your user profile can access the contents of the folder, which is a limitation of the approach. Anyone who has access to your profile or to your computer while you're logged in can access the folder. However, password protecting your user account and not leaving your computer unattended effectively password protects the folder.
If the option to Encrypt contents to secure data is grayed out, you likely have a Home edition of Windows and can't use this method.
Hiding Folders Instead of Encrypting
If you don't have the encrypt option on your version of Windows and you don't want to download third-party folder password software, hiding folders is a viable alternative, if one that many computer users can easily circumvent. To do this, right-click the folder you want to hide and then choose Properties from the menu.
In the Properties window, under Attributes, check the box beside Hidden to hide the folder and then click OK to confirm. To bring the folder back up again, click the View tab on File Explorer and then check the box beside Hidden items. The downside of this approach is that anybody who knows about it can go through this process to reveal the folder.
If basic hiding doesn't seem secure enough for your folder, you can use a simple line of code to create a super-hidden folder that won't show even if someone reveals hidden items. This is achieved through Command Prompt, so press Windows Key + R to open the Run dialogue. Then type cmd and press Enter.
Using your own specific file path – different from the one shown below if the folder isn't on your desktop – with your user name where it says [your name] and the name of your folder where it says [folder name], type:
attrib +s +h "C:\Users[your name]\Desktop[folder name]"
Press Enter to run the command. The folder disappears and can't be brought back up in the usual way. To show it again, type:
attrib -s -h "C:\Users[your name]\Desktop[folder name]"
Again, use your own specific file path.
Third-Party Folder Password Software
The most effective and direct way to add a password to a folder in Windows 7 is to download software specifically designed to perform the task. Two options are VeraCrypt and LocK-A-FoLdeR, both of which are simple to use and free.
Using VeraCrypt as an example, install the program in the usual way, following the on-screen prompts in the installation wizard. Launch the program and select Create Volume and then choose Create an encrypted file container and Standard VeraCrypt volume in the next two screens. Choose a name and location for your volume and an encryption scheme in the following screens. Any encryption scheme is as secure as you need. Choose the size of the volume you want to create (think about how big the files are that you want to hide), make a password, tell VeraCrypt if there are any large files, and then make random mouse movements on the Volume Format screen.
Click Format to return to the main screen. Select your volume, choose a drive for it, and choose Mount. Enter your password to complete the process and make a secure partition where you can store any folders you want to password protect on your computer.