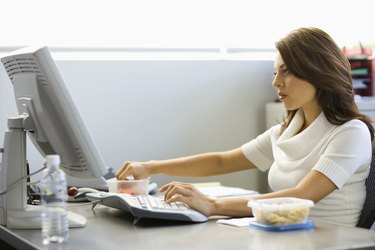 Google Analytics is a powerful and free Web traffic analysis tool. It enables you to track your visitors' behavior as they navigate around your site, and to use this data to optimize your site for traffic or sales. Google Analytics is completely compatible with both WordPress and GoDaddy's Website Builder. If you have set up websites with these services, all you have to do is paste your Analytics Tracking code into your site.
On GoDaddy
Step 1
Log in to your GoDaddy account and click the "Launch" link next to your preferred website builder.
Step 2
Click "Edit," "Manage Site" and then click "Site Settings."
Step 3
Select the "Sitewide Settings" tab and then start a new line in the text box at the top of the screen. Copy and paste your Google Analytics tracking code into this line. (To get this code, log in to Google Analytics, click "Admin" and then the URL of the site you want to track. Click the "Tracking Info" tab and then copy the code that displays.)
Step 4
Click "Save" and then "Publish."
On WordPress
Step 1
Log in to your WordPress administration dashboard. If you use multiple accounts, you'll need to use your admin account to complete this process.
Step 2
Click "Appearance" and then click "Editor."
Step 3
Click "header.php" from the list of files to the right of the screen. The code for this file will now appear in the main editing area.
Step 4
Scroll through the file until you locate the "" tag. Start a new line directly above this tag and then copy and paste your Google Analytics tracking code into it.
Tip
You'll have to wait up to 24 hours to see your data in Google Analytics.