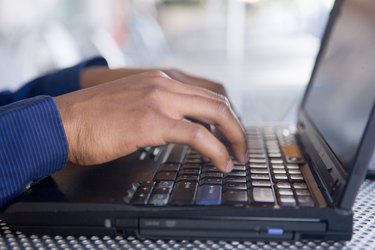 Regedit is a registry editor utility program integral to the Windows operating system. Using the Regedit program, the association between a file extension and the software that uses the file is edited in the Windows Registry. Regedit is not easy to use or, is it user friendly. It requires that you know exactly what effect the changes you make will have, as invalid entries can render the operating system inoperable.
Step 1
Click on the Windows Start button and type "regedit" in the Search programs and files box. Press "Enter" and registry editor program should start. If User Account Control intercedes, asking if you want to allow the program to make a change, click "Yes."
Step 2
Click the branch HKEY_CLASSES_ROOT in the left-hand pane to expand it. This registry branch contains all of the file association information. Scroll down the list until you find the file extension that you want to change.
Step 3
Click on the file extension to expand the key. The sub-keys associated with the file type you have selected are displayed. Edit the key values by right-clicking on the sub-key and selecting "Modify" from the menu. The changes you make will be saved when the registry is closed.
Step 4
Restart Windows to make the registry changes visible to the operating system.
Tip
Back up the registry before making any changes to the values or structure of the registry. When Regedit has started, select "File">"Export .." from the menu. A file save dialog will appear, allowing you to name the registry backup file and location. Give the export file a memorable name and location. Leave the file extension set to .reg. Set the Export Range to All and click "Save."
Warning
Do not guess at what changes to make within the registry keys when changing file associations. If you enter the wrong key value or damage the Registry structure, you may render Windows inoperable.