Adobe Acrobat is the primary software used to create and edit Portable Document Format (PDF) documents. To type new text on a PDF page, or to create a PDF form for others to fill out on their computers, use Acrobat's Typewriter tool. The tool is helpful for filling out flat forms (non-interactive), as you can simply type over the blank fields. The Typewriter toolbar allows you to change text properties, including the font, font size, color and line spacing.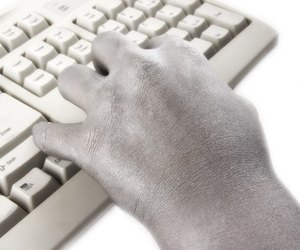 Step
Open either a blank page or existing PDF document in Adobe Acrobat.
Step
Click the "Tools" menu.
Step
Select "Typewriter" and then "Show Typewriter Toolbar." The toolbar will appear on-screen.
Step
Select the "Typewriter" tool from the toolbar.
Step
Click an area on the page where you want to begin typing. Type some text.
Step
Click and drag to select the text.
Step
Select a new font from the typeface drop-down menu in the toolbar. The selected text will change to the new font you've chosen.