How to Change an Image Background in MS Paint. A quick way to give a whole new look to an existing image is to change the background of the image. An easy way to do this is to open the image up in MS Paint and use a few tools from the toolbox to change the background image color. Keep reading to find out how you can accomplish this task in no time.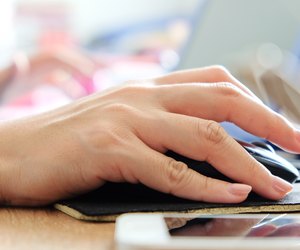 credit: ponsulak/iStock/Getty Images
Step
Open MS Paint. On most computers, you can find MS Paint by clicking the "Start" menu, pointing to "All Programs," choosing "Accessories" and clicking on "Paint." The Paint screen will open with a blank, white canvas.
Step
Choose the "File" menu and click on "Open" to bring up the "Open" dialogue box. Use the "Look in" drop down list to browse to find where the image with the background you would like to change is saved. Select the image file and click the "Open" button to open the image and close the "Open" dialog box.
Step
Select a color that you would like to use for the image background in place of the existing background color. If you would like to use a color from the color swatches at the bottom of the screen, simply click to select one. If you would like to use a color from another part of the image you have open, click on the Eyedropper Tool in the Paint Toolbox. Then click on the color you would like to use in the picture.
Step
Click on the Paint Bucket Tool in the Paint Toolbox to select it. Click anywhere in the background of the image. The background of the image will now be filled with the chosen color. You may find it necessary to use the Paint Bucket tool a few times on the background to fill the entire background.