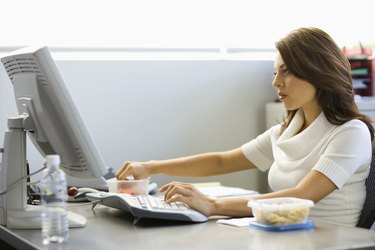 Excel is spreadsheet software that is part of the Microsoft Office Suite. You can use Excel in many ways. You can use it to organize data or to create reports that analyze the data you have entered. You can create a PivotTable report to analyze data, which makes viewing and analyzing the data easier. If you are using a PivotTable and want to change rows to columns, it is easy to do so. Depending on the type of data you are viewing, it may make it easier to analyze by making this change.
Step 1
Open the Excel workbook that has the PivotTable report you want to modify.
Step 2
Right-click on the PivotTable report, and select "Show Field List." This is where you view all of the fields in the PivotTable, including the report filter, values, columns and rows.
Step 3
Click on the PivotTable row that you want to change to a column, and drag it over to the box labeled "Column Labels." The row now shows up as a column.
Step 4
Click on a field that you want to change to a column. Another way to change a PivotTable row to a column is to select "Move to Column Labels."
Step 5
Repeat as needed to continue changing PivotTable rows to columns.