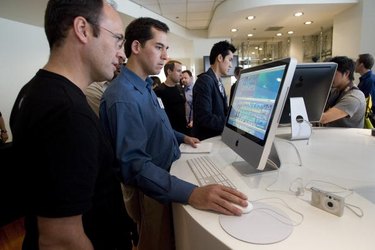 NTFS is a format for the Windows NT File System. As of early 2011, Macs do not have a native ability to format volumes using NTFS. If you want to change the format of a flash drive to NTFS with your Mac so you can use it on a Windows computer, you need to install an NTFS driver on the Mac. Formatting a drive erases its contents, so back up the files on your flash drive before you format it.
Step 1
Insert a flash drive into a USB port on your Mac. It will mount on the desktop.
Step 2
Download an NTFS driver for the Mac, such as Tuxera NTFS for Mac, NTFS-3G, the open-source free version of Tuxera NTFS, or NTFS For Mac OS X 8.0 (see Resources).
Step 4
Click on the "Applications" icon in the dock, then click "Utilities" and "Disk Utility" to launch it. All mounted volumes on your Mac, including internal and external hard drives, as well as the flash drive, will appear in the left pane.
Step 5
Click on the flash drive in the Disk Utilities left pane.
Step 6
Click the "Erase" tab. Click the "Format" pull-down menu and select "NTFS." Type a new name for the flash drive in the Name text box.
Step 7
Click "Erase." Disk Utility will change the format of the flash drive to NTFS, a process that erases all data on the disk.