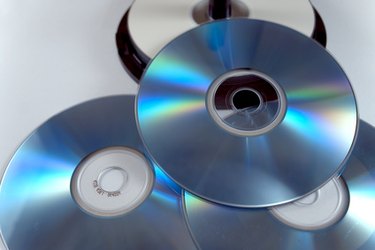 You can create an ISO image on your Mac using Disk Utility, a program included as part of the Mac OS X operating system. ISO refers to the ISO 9660 disk image format. This is a complete copy of a disk and Mac and PC computers can open this file type. When you create a disk image using Disk Utility, it saves the file as a CDR. The CDR file extension is the Mac OS X version of an ISO file, which uses the same ISO 9660 format. The only difference in these file extensions is the name.
Step 1
Insert the CD or DVD you want to turn into an ISO into your Mac's optical drive.
Step 2
Click on the "Go" menu in the Finder and highlight "Utilities." Double-click on "Disk Utility" in the Finder window.
Step 3
Select the CD/DVD by clicking on it in the menu on the left side of the window.
Step 4
Click the "New Image" button in the toolbar on the top of the window.
Step 5
Enter the name you want for the file and select the location where the computer should save the disk image. Set the "Image Format" to "DVD/CD Master." Click the "Save" button.
Step 6
Go to the location where you saved the disk image. Select the file and press the "Return" key on your keyboard. Change the file extension from ".cdr" to ".iso" in the text box. Because the file formats are identical, computers on both Mac and PC platforms will be able to open the renamed disk image.